Grade D Rotary and Vibrator/Jumper Hose • API 7K-FSL1
5,000 PSI W.P \ 10,000 PSI TEST\12,500 PSI BURST
•Certification: API 7K ISO 14693-ABS APPROVAL
Indroduce:
In oil drilling and exploration, the Rotary drilling hose delivery the ultra-high pressure mud from the pump to the standpipe, it is a flexible connection between the rotary (rotary drilling) pump and the riser (rotary vibrator). It meets the strict requirements of directional drilling, negative pressure pulse and high temperature downward connection. The hose can also be used as a motion compensation hose to stabilize rotary drilling and pumping equipment on offshore drilling platforms under the action of vertical waves.
Construction: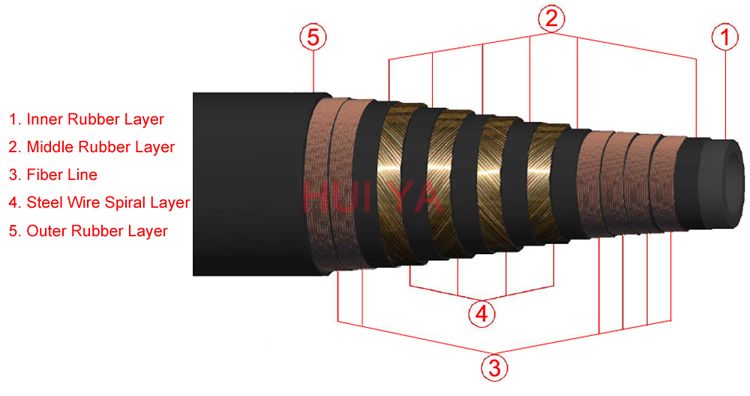 Material: Modified Nitrile
Size: 2- 1/2 - 4 inch
Imprint: Customized
• Reinforcement: Multiple high strength steel cables
• Cover: Ozone, petroleum and abrasion resistance
• Tube: Oil resistant for petroleum drilling fluids
• End Fittings: API male nipples, threaded or buttweld hammer
unions, API flanges and other special connections.
• Maximum Length: 130 feet/40 meter
• Operating Temperatures: -22°F to 200°F (-30°C to 93°C)
• Options: Available with S.S. armor and fire protection.
Typical Application
• Mud delivery hose, motion compensator hose, decoking hose.
• Oilfield, construction, mining and high performance
industrial equipment.

Grade D rotary and vibrator hose is manufactured with the highest quality material to handle the tough
drilling applications of industry.
Rotary Drilling & Vibrator Hoses with swaged coupling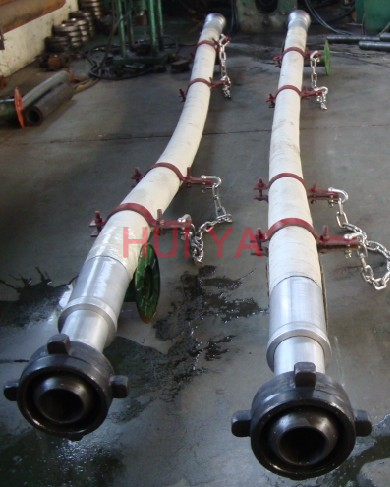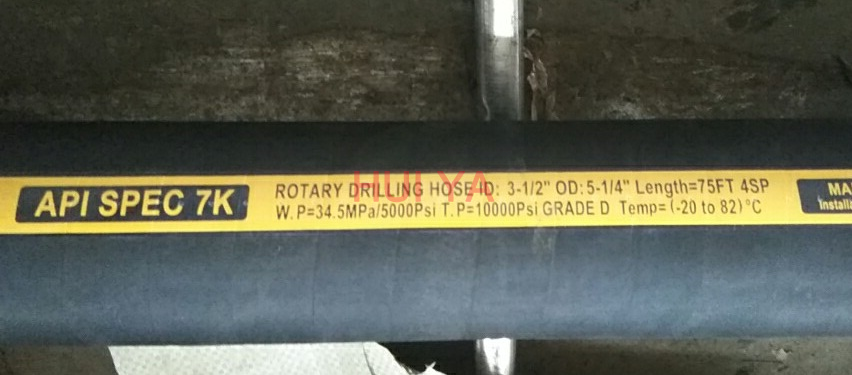 Specification:

Available with API N.P.T threads and/or Hammer Union connection welded and threaded also availaible with flanged ends , RTJ, hubs, unibolts etc.

Options:
Accessories such as safety clamps, hose lift eyes and stainless steel armor are available upon request.
Test:
Each hose is tested at 10000psi for 15 minutes. Pressure test graph, test certificate and letter of conformance are issued for each hose.
Maximum available length: 40 m
Production length tolerance: +/- 64 mm up to 6.4 m hose length or +/- 1%
Laboratory:
Strictly quality control, advanced laboratory.
Before the mass production, test each batch of raw material.
After the production, test each hose to ensure 100% qualified
Each hose is tested at 2 times working pressure.
We try our best to provide customers with the highest quality products.